Enjoy the beauty of flowers, tasting Japanese sake, relax yourself in the nature.
Best season for this itinerary from middle of  June to August
Sapporo>>Asahikawa>>Biei>>Furano>>Sapporo
~Flowers ,Nature and Sake~ Enjoy  the beauty and Sake in Hokkaido
Hotel's lobby in Sapporo chuo-ku
Otokoyama Museum of Sake Brewing
Lunch time
Seven star no ki
Shikisai no oka
Farm Tomita
Hotel Arrive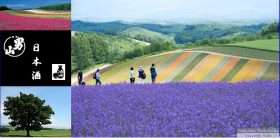 AUDI TAXI (1-2person) 72,000JPY/per car
JUMBO TAXI (1-8person) 75,000JPY/per car
ALPHARD (1-4person) 78,000JPY/per car
Note:All those fee including tax and fuel. Parking fee, Entrance fee, Highway Tools and Purchases for your meal and shoping are NOT included.